Kitesurf supervision
Resuming kitesurfing after a few dry months – or just getting used to a new spot – can be stressful when you're an intermediate rider. Thus, gestures supposed to be routine can finally become more hesitant.
And a reunion session with your favorite sport in unfamiliar land may be disappointing or panicking.
That's why Kitesurf Galicia offers kitesurfing supervision. Thus, you can get back on straps gently, or simply get used to Galician spots with a secure frame.
Supervised session in Galicia



We will help you plan your session on the new spot according to the conditions, we will assist your launching and landing and keep a close eye on you, until you find your bearings.
Nevertheless, beware that kitesurf supervision does not replace a kite course. Thus, if the supervision is transformed as such, you will be charged for a lesson.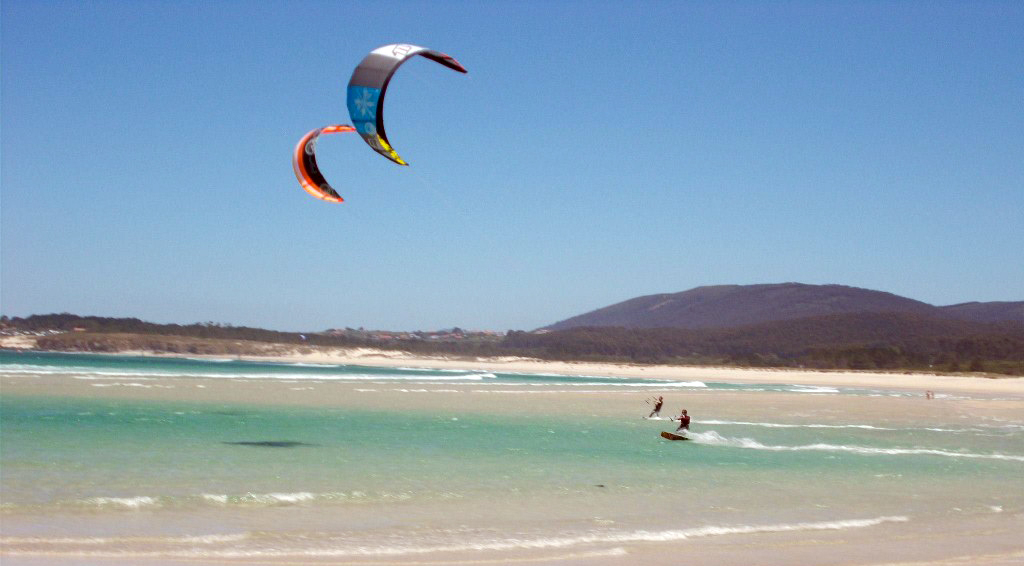 Rates : kitesurfing supervision in Galicia
Monitored kitesurfing session
Rates of supervision in kitesurfing in Galicia
Supervision in navigation
and assistance
€35Per hour
Rate for one person
[/ Pricing_item]
Supervision in navigation
with equipment rental
€45Per hour
Rate for one person
[/ Pricing_item]
Contact Us Book your supervision in kitesurfing [/ button]
Our other services
In order to boost your progress in kitesurfing, you can also opt for an internship of 10 hours.
Thus, the hours of kite lessons will be practicable over a week, at the most appropriate times.
In addition, we also offer multi-activity packages, including fishing, surfing or yoga as an alternative to kitesurfing for days when conditions do not lend themselves to it.
In addition, we also offer supervised navigation and rental for uncrowded kitesurfers.
Finally, the most experienced riders can also opt for a kite trip itinerant with local guide, even a surf trip and kite.