Private kitesurfing lesson: the best way to learn
Kitesurfing is a sport offering the advantage of a rapid progression (a few days training is enough to reach autonomy).
Nonetheless, it is an extreme sport. Its teaching requires the full attention of both the trainee and the instructor. For this reason, Kitesurf Galicia offers only private kitesurfing lesson (or semi-private if you want to learn a duet).
In fact, the choice of a private education allows our trainees to benefit from a constant close security, as well as personalized advice at any time, for a fast progression.
Kitesurfing lessons for all levels

We have been practicing kitesurfing since the beginning of the 2000s and have been teaching it since 2007. Thanks to more than a decade of practice and training, we are able to teach all levels of practicing, from the perfect beginner to the keen wave rider. Thus, introductory course in kite discovery mode, refresher course (upwind riding, turns, jumps), or advanced strapless wave riding, you will benefit from a tailor-made teaching.
In conclusion, we offer kitesurfing lessons, on a spot adapted to your level, to the conditions and to your expectations.

Your kitesurfing lesson with Kitesurf Galicia

First of all, the spot will be adapted every day to the tide, wind and sea conditions.
For this purpose, your instructor will meetup with you on the selected spot after you've contacted him in the morning.
Then, you have the option of having a kitesurf course with your own equipment if you are already geared up (and if your kite is adapted to the conditions). Alternatively, you can also use the school material.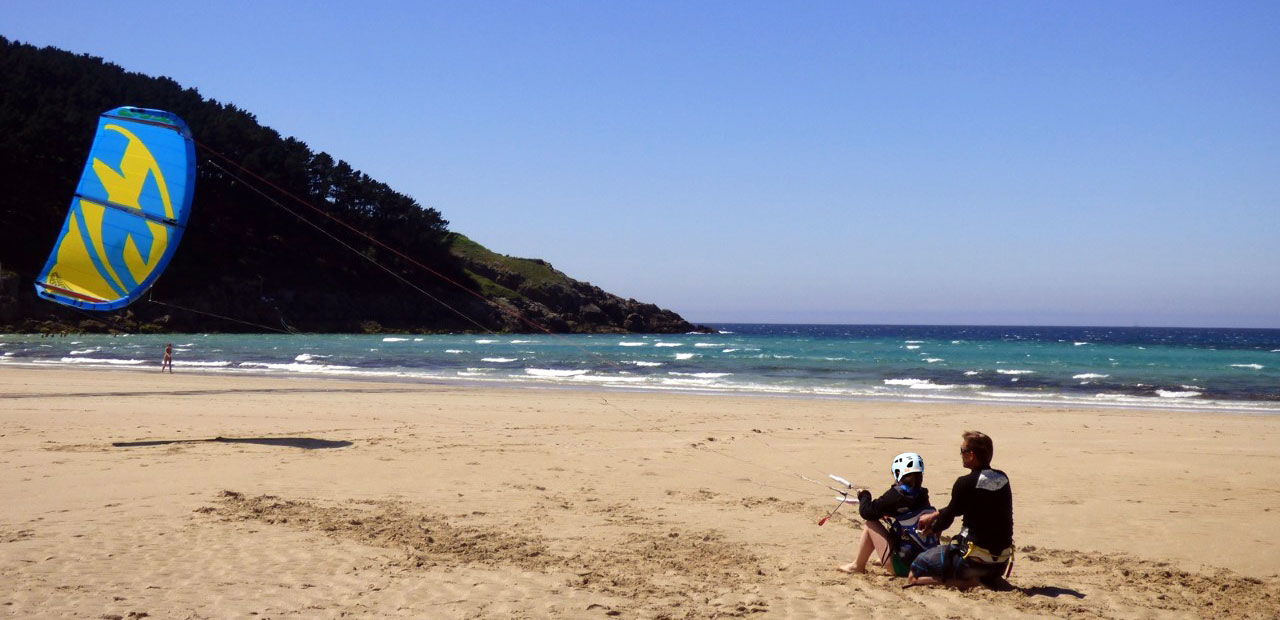 Private kitesurfing lessons rates
Kitesurfing lesson in Galicia
Private lesson
With personal material
Duration: 1h
[/ Pricing_item]
Private lesson
With rental material
Duration: 1h
[/ Pricing_item]
Semi private
With personal material
Duration: 1h
[/ Pricing_item]
Semi private
With rental material
Duration: 1h
[/ Pricing_item]
Contact Us Book Your Kitesurf Course [/ button]
Our other services
In order to boost your kitesurfing learing curve, you can also opt for a 10 hours training. The hours of kite lessons will be done over a week, at the most appropriate times. In addition, we also offer multi-activity packages, including fishing, surfing or yoga as an alternative to kitesurfing for days where conditions aren't favorable.
In addition, we also offer supervised navigation and gear rental for intermediary to experienced kitesurfers.
Finally, the most experienced riders can also opt for a transient kite trip with local guide, or even a guided surf and kite trip.