Learn kitesurfing in Galicia



Get introduced to kitesurfing in Galicia, with a 10h kitesurfing course, which you can stagger over a week.
Classes will be taught at the most convenient times.
Faithful to its philosophy of teaching kitesurfing privately, Kitesurf Galicia offers only particular kitesurf courses. Semi-private courses are also available if you want to learn a duet.
A private kitesurfing course allows our trainees to benefit from an à la carte teaching, totally personalized. You evolve at your own pace, according to your predispositions as well as personal difficulties.
Kitesurf courses for all levels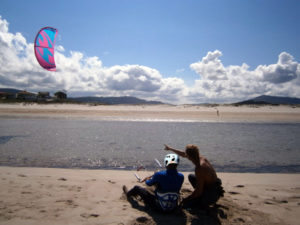 Thanks to over a decade of practice and teaching, we are able to provide kitesurfing courses suited for all levels.
Our kite courses are adapted from the perfect beginner to the free rider wishing to master strapless.
Thus, during a kitesurfing course in Galicia, you can go to the next stage, yet at your own pace.
Whether you aspire to independence or to perfect your technique, your kite course will be totally adapted to your needs.

Finally, your kitesurfing course will be an opportunity to discover different spots, wind directions, configurations. Thus, you can boost your confidence, improve your ability to adapt, and also taste the pleasure of riding on different sites.
Your kitesurfing course in Galicia

First of all, we will select the most suitable moments to give you kitesurf lessons during your stay in Galicia.
Thus, over a windy week, classes will be done throughout the week. On the other hand, if certain days are more favorable than others, the kite courses will focus on the most suitable windows.
In order to provide you with a complete training, your ten-hour internship will include two hours of theory and eight hours of practice.
Then we will adapt the practice spots every day depending on the tide, wind and sea conditions.
For this purpose, your instructor will meet up with you on the selected spot after you have contacted him in the morning.
In order to master your own equipment, you can attend a kitesurfing course with your own gear (provided that your kite is adapted to the conditions).
Alternatively, you can also benefit from school material.
Finally, we offer multi-activity packages, including other complementary or alternative activities to kitesurfing. This format is ideal in all circumstances. Whether as a discovery, diversification or palliative to a winless day, get started in another activity. Kitesurf Galicia offers you the choice of yoga, fishing or surfing!
Rates for kitesurf courses in Galicia
Kitesurfing course in Galicia

Special internship
With personal material
€400Per person
Duration: 10h
[/ Pricing_item]
Special Stage
With Rental Material
Duration: 10h
[/ Pricing_item]
Semi private
With personal material
Duration: 10h
[/ Pricing_item]
Semi private
With rental equipment
Duration: 10h
[/ Pricing_item]
Contact Us Book Your Kitesurf Course [/ button]
Our other services
In order to boost your kitesurfing learing curve, you can also opt for a 10 hours training. The hours of kite lessons will be done over a week, at the most appropriate times. In addition, we also offer multi-activity packages, including fishing, surfing or yoga as an alternative to kitesurfing for days where conditions aren't favorable.
In addition, we also offer supervised navigation and gear rental for intermediary to experienced kitesurfers.
Finally, the most experienced riders can also opt for a transient kite trip with local guide, or even a guided surf and kite trip.